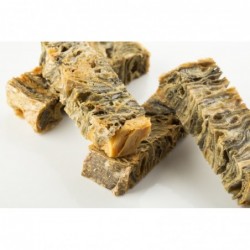 Fish Fingers 75g ( Whitefish Jerky)
 Part of our Whitefish Jerky range, our sh Fingers are great for dog training or as a 'good dog' treat, made with 100% natural ingredients.
Part of our Whitefish Jerky Range, our Fish Fingers are a great crunchy sh treat packed with natural goodness to promote the health and wellbeing of your dog.
No articial, additives or preservatives – 100 % natural ingredients!
Size Guide: These treats are on average approximately 90mm long, 25mm wide and 15mm deep. They are a natural product so actual size may vary.
Feeding Guidelines: Feed as a treat or reward in between your dog's normal meals as part of a balanced diet. Not suitable for puppies under 14 weeks old. Please ensure a bowl of fresh water is always available.
Composition: 100% Whitefish Skins.
Analytical Constituents (%): Protein: 84.4%, Crude Oil & Fat: 0.3%, Crude Ash: 17%, Crude Fibres: 9.2%, Energy (kj/100g)   1435, Energy (kcal/100g) 338